---
General Union of Libyan Lawyers
Statement in the course of Libyan businessmen trial in the UAE
After reviewing the file of the detained Libyan businessmen in the UAE, communicating with the defense team – that undertook the task of the legal defense of the detainees, and after carefully reading the case file; The General Union of Libyan lawyers announces the following:
First, The General Union of Libyan lawyers announces that it stands with the detained Libyan businessmen and their families, and assures its solidarity with them. The Union will do all needed effort so that the detainees return safely to their families.
Second, the Union calls for all lawyers and all those concerned with the legal rights, and human rights in general, from within and outside Libya, to declare solidarity with the prisoners and their fair cause.
Third, the Union condemns all violations against detainees, since their arrest, to this day. It condemns all cruel and degrading treatment they faced, reported by impartial international organizations reports.
Fourth, the Union expresses its gratitude towards the international defense team, who took charge of defending the detainees, and prepared a complete dossier, which was presented to the court on their defenses. The Union sees that dossier, and the evidences it has, capable of achieving justice, proves the innocence of the detainees and able to set them free.
Finally, the Union asserts that May 30th, (the day of the verdict on the case), would be a crucial day in the course of justice, especially since the judgment would be issued without the ability to appeal it.
While the General Union of Libyan lawyers anticipates eagerly this day; yet, it hopes to see a just verdict that expresses the spirit of justice, and in accordance with justice and equity standards. It will be issued by the Federal Supreme Court in the UAE, who see in it the remaining hope in the fairness of detainees. We look forward to see a verdict of their innocence, based on the availability of its causes.
The General Union of Libyan lawyers
Tripoli on May 26, 2016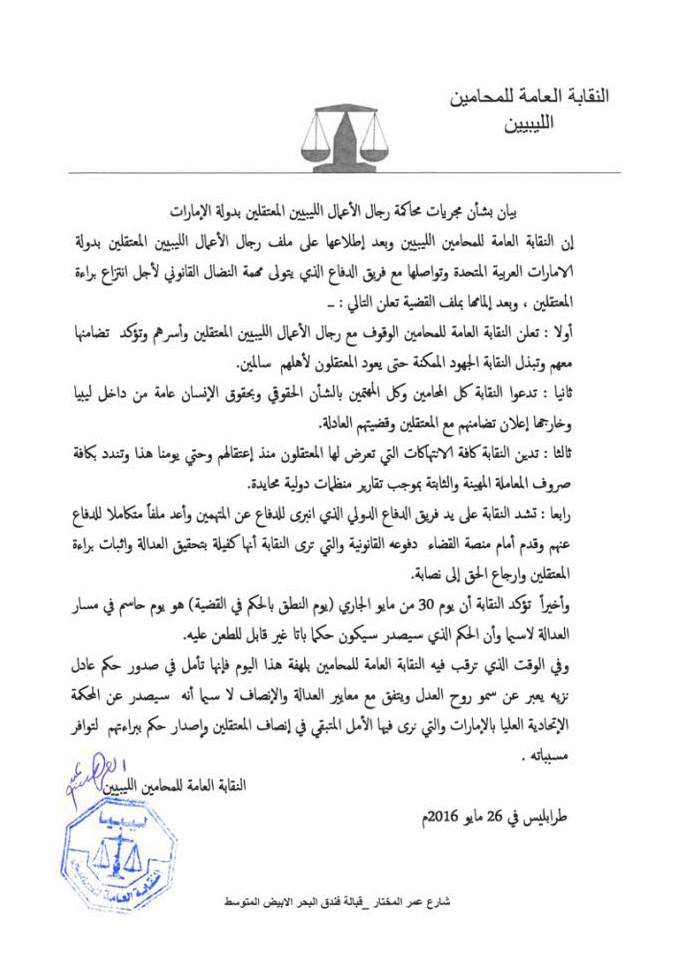 ---
Read Next
Letter to UN Special Rep to Libya – Martin Kobler