---
Free Salim Alaradi Campaign
Best Update Ever – June 2nd 2016
Free At Last
Canadian Citizen Detained in United Arab Emirates for 645 Days
A few minutes ago, Canadian Salim Alaradi boarded a flight from Dubai and is safely en route to be reunited with his family. The flight departed 10:30 pm local time, 2:30 pm Eastern Standard time. Alaradi's family is ecstatic, celebrating his safety and counting down the hours for his arrival in Istanbul. The family has coordinated hospital admission and physicians for immediate medical assessments.
Alaradi was acquitted of all charges on Monday, May 30, 2016, but was immediately returned to custody by UAE state security officials.  After high level interventions by Canadian government officials, Alaradi was suddenly released from Abu Dhabi prison late in the evening of May 31, 2016.  Unfortunately, Alaradi's reunion with his family remained in doubt as UAE officials advised he was subject to a travel ban and could not leave the country.
Canadian officials in the Abu Dhabi Embassy, Dubai Consulate, and in Ottawa tirelessly worked non-stop over the past 36 hours to protect Alaradi from further violations of his human rights and to facilitate his safe exit from the United Arab Emirates.  Alaradi was accompanied through Dubai airport by a Canadian consular official and his departure remained in doubt until the final moments when his plane lifted off.
Salim's daughter Marwa Alaradi has led a campaign for 645 days to secure the freedom of her father, who she has not seen since he was abducted by UAE state security officials during a family vacation in August 2014. Marwa's campaign became a global call for freedom and has become viral on social media. Marwa's efforts have brought together human rights groups, activists, the Canadian government, the United Nations, and supporters from every continent of the world.  The #FreeSalimAlaradi campaign has become a landmark case in the field of international human rights law.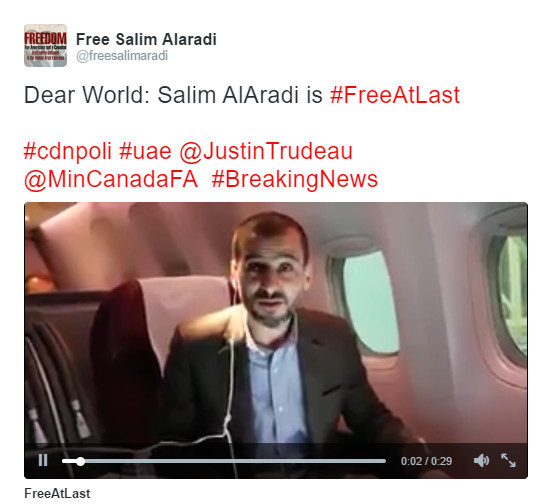 Salim Alaradi would like to thank everyone who has invested efforts, spoken out, and advocated for his freedom. In particular, Salim expressed that he will be forever grateful to Canadian consular officials who visited him on almost a weekly basis over the last eight months. On behalf of her father, Marwa would like to recognise the extraordinary work of the United Nations Special Rapporteurs and their human rights officers, Amnesty International and specifically Drewery Dyke and Alex Neve, Human Rights Watch Nicholas McGeehan, and Monia Mazigh of the International Civil Liberties Monitoring Group.
The Alaradi family owes a special thank you to their Canadian lawyer Paul Champ who championed their case day and night. They would also like to thank the internationally-respected lawyer Mostafa Elmanea who lead the legal team, the local UAE lawyer Ali Al Mannae, and the members of the legal team in the UK, Libya, France and Switzerland.
Right before take-off Salim sent a video statement to his brother. He said, "Yesterday my daughter Marwa told me that I have 1000s of friends, supporters and organizations across the world who worked so hard for my freedom. I boarded the plane and it will take off soon. Thank you so much for getting me this far.  I am not home yet, but I am a plane ride away.  God Bless you all. Thank you"
Salim Alaradi and his family plan to return to their house in Windsor, Ontario, after he has been medically authorized for travel by doctors in Istanbul to rebuild their lives together.
Recent Media Coverage:
CBC – Canadian businessman Salim Alaradi can't leave U.A.E. after freed from prison, on travel ban list
Middle East Eye – UAE bars Libyan-Canadian businessman from leaving country after prison release
The Guardian – Americans and Canadian held in UAE acquitted – but 'nightmare' continues
Vice News – Canadian Detained for 642 Days in the UAE Has Been Acquitted, But Isn't Free Yet
CBC – Canadian Salim Alaradi acquitted in United Arab Emirates
Huffington Post – Salim Alaradi, Canadian Held In U.A.E., Acquitted Of All Charges But Still In Custody: Family
Global News – Salim Alaradi, Canadian detained in UAE for 2 years, acquitted of all charges
Middle East Eye – Libyan-Canadian acquitted in UAE, but taken back to prison, family says
Media Contacts:
For further details about Salim Alaradi's situation and the progress of the case in UAE:
Paul Champ, Human rights lawyer representing Salim Alaradi
T: (613) 816-2441
E: [email protected]
Marwa Alaradi, Salim Alaradi's eldest daughter
E: [email protected]
For further background about this case and related human rights concerns in UAE:
John Tackaberry, Media Officer, Amnesty International Canada
T: (613) 744-7667, extension 236
E: [email protected]
Monia Mazigh, National Coordinator-International Civil Liberties Monitoring Group
T: (613) 241-5298
E: [email protected]
Nicholas McGeehan, UAE researcher at Human Rights Watch
E: [email protected]
Drewery Dyke, UAE Researcher at Amnesty International
T: +44 (0) 75 3558 7297
E: [email protected]
For more details about the case please visit:
Campaign Website http://35.193.218.81/
Facebook Page https://www.facebook.com/freesalimalaradi
Twitter Account https://twitter.com/freesalimaradi
Youtube Channel https://www.youtube.com/c/freesalimalaradi
---
You may also like