---
Free Salim Alaradi Campaign
Urgent Update – May 26th 2016
 Global Affairs Canada Calls for a Fair and Transparent Trial on May 30 for Canadian Salim Alaradi
Canadian Citizen Detained in United Arab Emirates for 637 Days
Updates: Global Affairs Canada; Consular Update; Family Video; Op-ed in the Guardian; Video explaining legal case
Statement from Global Affairs Canada
Yesterday in an interview with CBC Windsor Morning Radio with Paul Champ, Canadian citizen Salim Alaradi's lawyer, a statement provided by Global Affairs Canada was shared with the public.

"The Government of Canada is seized of the seriousness of Mr. Alaradi's case and is fully engaged in efforts to ensure a prompt and just resolution. Canada has taken every opportunity to raise Mr. Alaradi's case with United Arab Emirates authorities particularly our concern regarding his health, well-being and consular access. Canada urges the United Arab Emirates to ensure that Mr. Alaradi receives a fair and transparent trial in accordance with due process. Consular services are being provided to Mr. Alaradi and we continue our advocacy on his behalf. Senior Canadian officials including Canada's Ambassador to the UAE have attended every hearing in Mr. Alaradi's ongoing trial."
The Alaradi family thanks the Canadian government for its efforts and continues to call the government to ensure due process is offered and that Alaradi is immediate release on Monday.
Development – Salim Alaradi Given Access to Clean Drinking Water
Yesterday Canadian consular officials were permitted to visit Alradi and confirmed that he has been given access to clean drinking water. This development will hopefully relieve the severe pain caused by his kidney stones developed during his time in detainment.
Video Published by Salim Alaradi's Children
Marwa, Alaradi's eldest daughter, and her siblings published a video, which has gone viral online, to appeal for their father's release and his safe return home.
"The campaign that I have been running was all about my father. I tried to tell the world how my father was taken, how he was tortured, how his human rights were violated. Seeing all this support from people has shown that they are standing with me for justice and to bring my father home," says Marwa. "May 30thmeans a lot to me and my family. We are hoping that on this day my father will get an innocent verdict where we can have this terrifying story end and we get to see our father again."
Her sister 15 years old Nour Alaradi adds that "May 30th is going to be the day hopefully that the truth comes out and my father is released to us and we can close this horrible chapter in our lives."
Op-Ed Published by Salim Alaradis' Brother
Yesterday Alaradi's brother, Mohamed Elaradi, who was also detained with him but released after four months published an op-ed in The Guardian.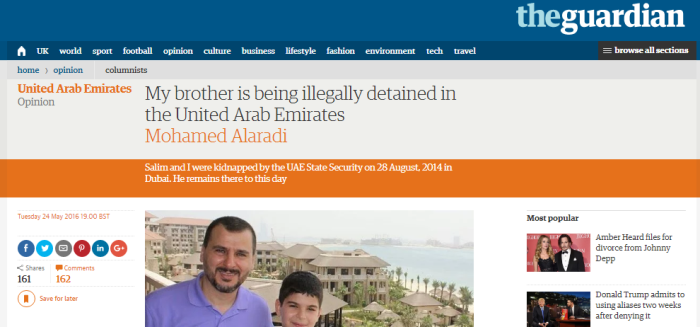 "Salim and I were nothing but law abiding residents of the UAE for decades before our kidnapping, and we both benefited from and gave back to UAE society. We were well-respected businessmen and enjoyed good relations with many honourable Emiratis. The UAE is a country we have come to love and respect, and our feelings would not have been changed were it not for the tragic injustice that the UAE State Security has subjected us to," explains Mohamed.
"After 16 months, the UAE prosecution first fabricated charges that my brother had involvement with two organizations involved with the Libyan revolution, entirely based on confessions obtained under torture. However, in March those charges were withdrawn from the court. New much less serious, but still damnable, offenses of taking hostile actions against Libya without the permission of the UAE government were submitted to the court to salvage their case. This time around no evidence was submitted to the court."
Mohamed sheds light on the campaign and summarizes his expectation for May 30th.
"Despite all that's transpired, we're still hopeful that justice will prevail and that the UAE will recognize the countless wrongs that's been inflicted upon my brother. We plead to the government to no longer deprive Salim of his freedom, and are cautiously optimistic that he will soon be reunited with his mother, wife and children.
Even though he can't ever get back the nearly two years that's been unjustly wrested away from him, I know in my heart that all my brother wants is the opportunity to go home and rebuild his life with his family."
Human Rights Group Published Video Explaining Latest Status of Alaradi's Case
The LibyanAssociation for Victims and Enforced Disappearance in UAEhas released a fourth video that explains the empty-handed prosecution of Alaradi before the UAE Supreme Court, the highest court of the country. To understand the case it it is a recommended watch.
Opinion Pieces
The Guardian – My brother is being illegally detained in the United Arab Emirates (Mohamed Alaradi)
Windsor Star Opinion – 'My father was jailed for months without anyone knowing' (Marwa Alaradi)
Huffington Post – Justice For Salim Alaradi And Others Arbitrarily Detained In UAE (published by lead lawyer)
Huffington Post – My Father's Tragedy And a New Hope For the UAE(Marwa Alaradi)
Huffington Post – Dropping of Terrorism Charges or Obstruction of Charges? (Marwa Alaradi)
Huffington Post – We Will Not Stop Until Our Father Comes Home(Marwa Alaradi)
Rabble – Our friends the Gulf sheikhs and the case of Salim Alaradi(Monia Mazigh)
Middle East Eye – The UAE must free my brother, Salim Alaradi(Abdulrazag Elaradi)
---
You may also like
Read Next
Letter to UAE President Khalifa bin Zayed Al Nahyan – President Obama – Prime Minister Justin Trudeau