---
Free Salim Alaradi Campaign
Update – May 27th 2016
International Voices Speak Out Before Final Verdict Scheduled for May 30 Canadian Citizen Detained in United Arab Emirates for 638 Days
Updates: Open-letter by international letters; Global call for freedom; Statements of Support; Jared Genser speaks out
The last 638 days of campaigning for the freedom of Canadian citizen Salim Alaradi has given rise to a global call for innocence on May 30th. Governments, the United Nations HRC mandates, human rights groups and members of the international legal community have spoken out for due process and freedom.
Open-letter by International Lawyers
Yesterday lawyers from Canada, US, UK, Libya and other countries issued a letter to UAE President Sheikh Khalifa bin Zayed Al Nahyan calling for the release of Alaradi and the American nationals co-accused in his trial, Kamal and Mohamed Eldarat.
The letter has been published on Huffington Post.
Canadian signatories, led by Paul Champ (Alaradi's lawyer), include Clayton Ruby C.M. (member of Order of Canada), Craig Brannaganm (Assistant Crown Attorney), Dennis Edney QC, Faisal Kutty, Pearl Eliadis (president Quebec Bar Association Human Rights) among others.
 Supporters around the globe call for freedom
Over the last two weeks there has been a wave of support from hundreds of people in every continent posting signs for "Freedom #MAY30" on social media.
Statements by Governments, Human Rights Groups and Experts and Lawyers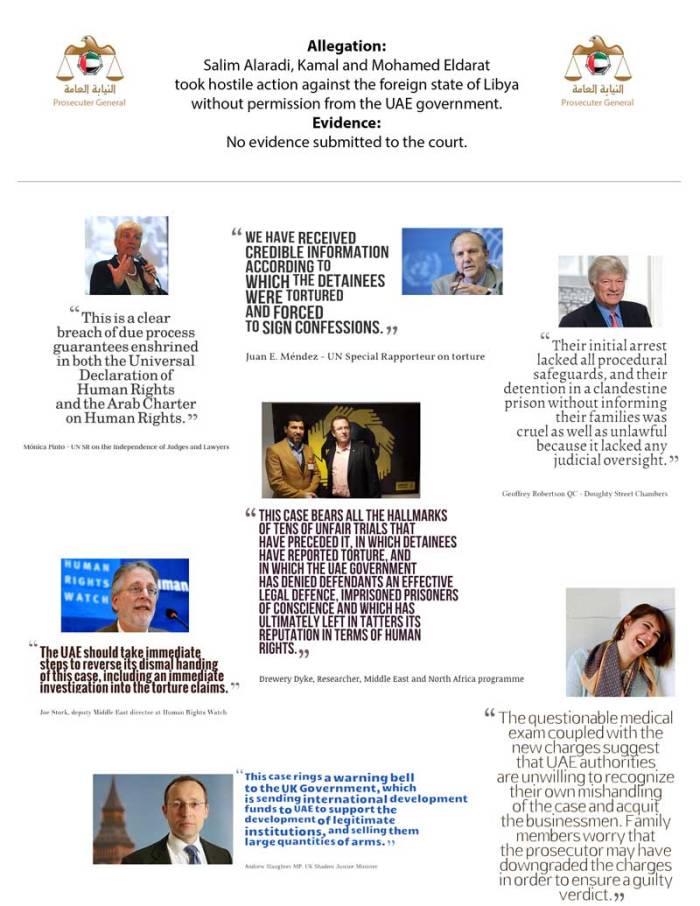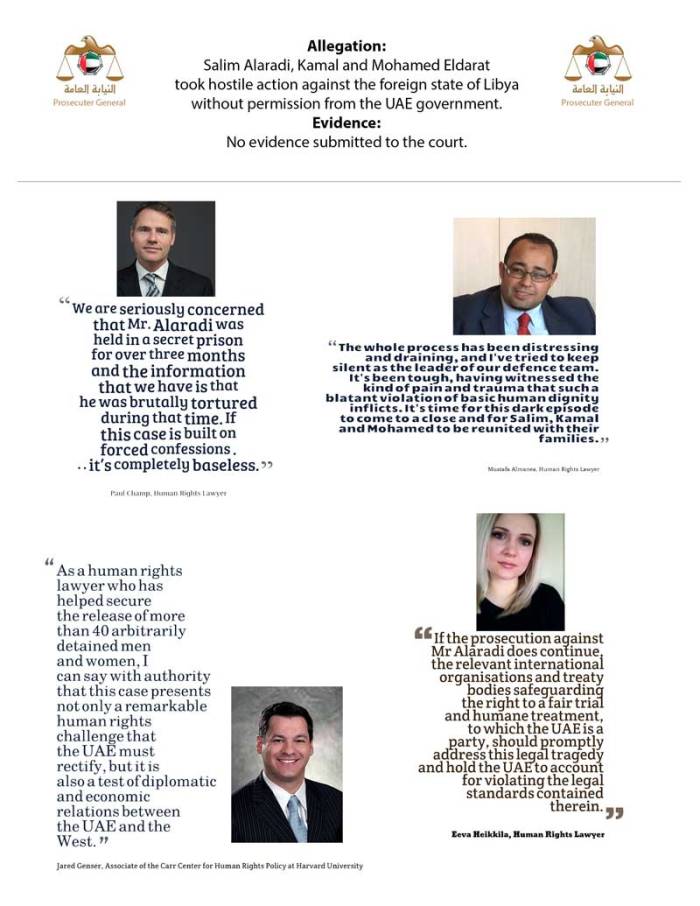 Click here for to expand and for text version:http://35.193.218.81/2016/05/27/statements-by-governments-human-rights-groups-and-experts-and-lawyers/
Statements by General Union of Libyan lawyers
The Union issued a statement condemning all violations against the detainees, since their arrest, to this day. It condemned all cruel and degrading treatment they faced, reported by impartial international organizations reports.
The Union furthermore called for all lawyers and all those concerned with legal rights, and human rights in general, from within and outside Libya, to declare solidarity with the prisoners and their fair cause.
To view the full statement:http://35.193.218.81/2016/05/26/statement-by-general-union-of-libyan-lawyers/
Jared Genser –founder of Freedom Now and Associate of the Carr Center for Human Rights Policy at Harvard University – Speak out for Alaradi
Jared Genser is internationally recognised for his work in securing the freedom of individuals arbitrarily detained. Yesterday he released apowerful op-ed about the case.
"As a human rights lawyer who has helped secure the release of more than 40 arbitrarily detained men and women, I can say with authority that this case presents not only a remarkable human rights challenge that the UAE must rectify, but it is also a test of diplomatic and economic relations between the UAE and the West."
"Despite global attention, serious due process abuses have continued since the trial began this January. As noted by the U.N. Special Rapporteur on the independence of judges and lawyers, the men were charged retroactively charged under a law that did not exist at the time of the alleged acts or arrest, and access to lawyers has been both extremely limited and not confidential. And in a stunning turn of events in March, the prosecution dropped the terrorism charges entirely and replaced them with lesser criminal charges, after its nearly identical terrorism case against two of the other businessmen arrested fell apart. The evidence against the men had reportedly consisted of only one witness statement – provided by an employee of the UAE security forces with no eyewitness evidence – and confessions obtained during torture."
Since the new charges were filed in the court no evidence was submitted to support them.
Opinion Pieces
US News – Time to Hold Our Arab Ally Accountable (Jared Genser)
The Guardian – My brother is being illegally detained in the United Arab Emirates (Mohamed Alaradi)
Windsor Star Opinion – 'My father was jailed for months without anyone knowing' (Marwa Alaradi)
Huffington Post – Justice For Salim Alaradi And Others Arbitrarily Detained In UAE (published by lead lawyer)
Huffington Post – My Father's Tragedy And a New Hope For the UAE(Marwa Alaradi)
Huffington Post – Dropping of Terrorism Charges or Obstruction of Charges? (Marwa Alaradi)
Huffington Post – We Will Not Stop Until Our Father Comes Home(Marwa Alaradi)
Rabble – Our friends the Gulf sheikhs and the case of Salim Alaradi(Monia Mazigh)
Middle East Eye – The UAE must free my brother, Salim Alaradi(Abdulrazag Elaradi)
---
You may also like
Read Next
Statements by Governments, Human Rights Groups and Experts and Lawyers