Free Salim Alaradi Campaign
Urgent Update – March 20th 2016
 Salim Alaradi's brother speaks in Geneva during the 31st Session of the UN Human Rights Council
Canadian Citizen Detained in United Arab Emirates for 570 Days
On Thursday March 17, 2016 Mohamed Alaradi, Canadian citizen Salim Alaradi's brother, spoke at a UN side event during the 31st Session of the UN Human Rights Council. During one of the busiest times of the year in Geneva, Mohamed opened up his speech with "I am not just family of a victim - but I was one of the victims and a survivor of the UAE secret torture prisons," in front of a large group of diplomats, journalists and human rights groups who came to understand the deteriorating human rights situation in the UAE.
Mads Andenaes, former chair of the UN Working Group in the Arbitrary Detention (WGAD), spoke as well and highlighted the case of Alaradi. "The group this February made their opinion public on foreign nationals detained in the UAE. Their arbitrary detention was clearly established by the UN Working Group."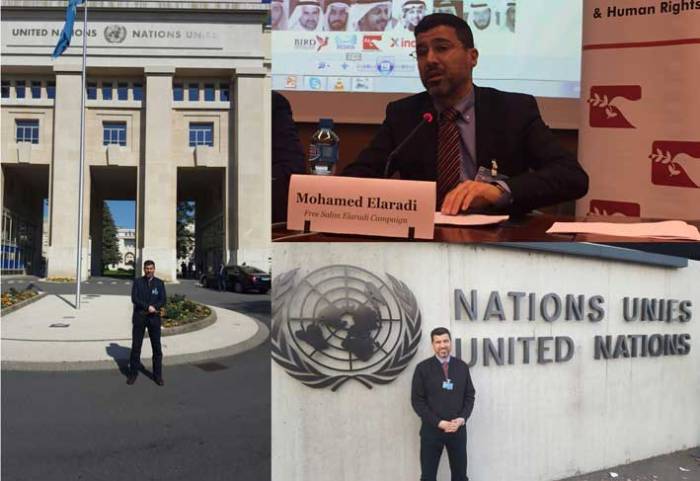 "I know for a fact that Salim simply wants his dignity and freedom back. When justice is given to him and he is a free man once more - all he wants is to rebuild his life with his children. We are looking forward to have this campaign come to an end… All we are looking for is a just verdict which will help us close this difficult chapter of our lives," concluded Mohamed. He also met with UN human rights officers and senior officials.
The Libyan Association for Victims of Torture and Enforced Disappearance in the UAE raised the awareness of Alaradi's case through a very creative and eye catching whiteboard animation video launched at the UN, which has been gaining thousands of views online since.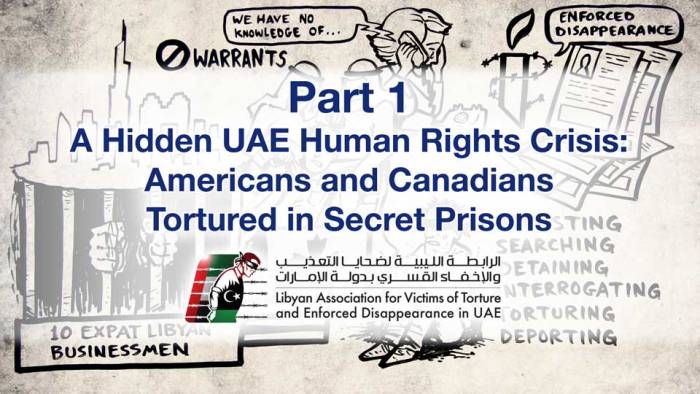 Link to Video: https://www.youtube.com/watch?v=RpETIlA8LwE
Marwa, Alaradi's eldest daughter, has published her first article on the Huffington Post World. Marwa explains "Our campaign's objective has always been to raise global awareness in hopes that the UAE's just rulers will recognize that something unjust and illegal is being carried out in their country. The Emirates' State Security is using the threat of terrorism to misrepresent and distort the situation and to distract not only the international community, but its very own government, from its illegal methods, all in order to cover up the gross human rights violations it is guilty of." Marwa has been traveling the world advocating for her father. "As long as my father is not safe at home with us, we will keep on fighting."
Updates from Last Hearing
In the last hearing Alaradi from behind a glass wall watched as a State Security agent took the stand to be cross examined. The agent is the author of the primary witness statement in the prosecution file and his accusations are built on secret sources and confessions.
As he was cross examined by lawyers he appeared on edge and contradicted his written statements several times. When challenged on the evidence of alleging Alaradi committed crimes of terrorism, he consistently pointed to the confessions.
During the trial one of the American defendants, Kamal Eldarat, shouted out "you are under oath, you tortured me and threatened my family if I didn't confess" causing the interrogator to panic but he denied doing so.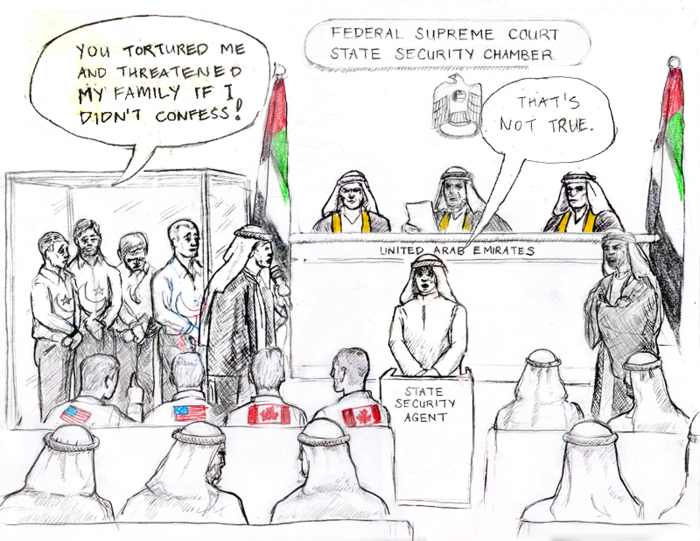 Update on Court-Ordered Forensic Assessment
On February 15th, 2016, as a result of media attention and scrutiny, and trial monitoring by Canadian and American diplomats, the court agreed to a request by the defence lawyers to order a medical examination to determine if Alaradi was tortured.
Last week Alaradi was transferred to the office of a court-selected physician at the Ministry of Justice. His examination took no more than eight minutes. The forensic report will be submitted to the courts on Monday March 21st in the next hearing.
Next Hearing
Tomorrow, Monday March 21st, 2016 Alaradi will be brought before the courts for his fourth hearing where it is expected that the forensic medical report will be submitted to the court and the former president of Libya who served during the National Transition Council (NTC), the internationally recognized government after the Libyan revolution, will testify.
Recent Media Coverage
CNN Politics - Terror trial set to begin for U.S. citizens in United Arab Emirates
Rabble - Our friends the Gulf sheikhs and the case of Salim Alaradi
Human Rights First - Trial of U.S. Citizens Detained in UAE Resumes
Huffington Post World - We Will Not Stop Until Our Father Comes Home
Other Media Coverage
The Globe and Mail - Trial resumes in UAE for Canadian alleging torture
The Washington Post - U.S. citizens tortured into confessing terrorist ties in the UAE, family says
The Guardian - UAE beat foreign prisoners and gave them electric shocks, evidence shows
The Washington Post – Americans tortured by American ally
The Guardian - Two Americans detained in UAE to go on trial after 505 days without charges
BBC - UN experts urge UAE to release Libyan detainees
Guardian - Businessmen held in UAE were tortured into confessions, says UN report
New York Times - UN Calls on UAE to Release 5 Libyans Allegedly Tortured
ABC News - UN Calls on UAE to Release 5 Libyans Allegedly Tortured
FOX News - UAE accused of torturing 5 detainees, including 2 Americans
Daily Mail - UN calls on UAE to release 5 Libyans allegedly tortured
Globe and Mail - Canadian businessman Salim Alaradi on trial in Abu Dhabi in terror case
La Presse - L'ONU demande aux Émirats arabes unis de libérer un détenu canadien
Reuters - UN experts condemn trial of foreign nationals in the UAE, call for release
CBC - United Nations calls for Canadian Salim Alaradi's release from U.A.E.
Huffington Post - Salim Alaradi Case: UN Calls On United Arab Emirates To Release Detained Canadian
CTV - UN calls on U.A.E. to release detained Canadian
Toronto Sun - UN calls for release of Canadian detained in UAE for year and a half
ICI Radio Canada - Le procès de Salim Alaradi aux Émirats arabes unis ajourné au 29 février
Middle East Eye - The UAE must free my brother, Salim Alaradi
Media Contacts
For further details about Salim Alaradi's situation and the progress of the case in UAE:
Paul Champ, Human rights lawyer representing Salim Alaradi
T: (613) 237-2441
E: [email protected]
Greg Craig, Lawyer for US Nationals Kamal and Mohamed El Darat and former White House Counsel
T: +1.202.371.7400
E: [email protected]
Marwa Alaradi, Salim Alaradi's eldest daughter
E: [email protected]
For comments about the UN News Release:
Ms. Amanda Flores, UN Human Rights Officer
T: + 41 22 917 9186
E: [email protected])
Ms. Sonia Cronin, UN Human Rights Officer
T: +41 22 917 9160
E: [email protected]
For comments about the case and the UN Opinion:
Geoffrey Robertson QC
T: + 44 (0) 7940 951731
E: [email protected]
Sue Willman, Deighton Pierce Glynn
T: +44 (0) 20 7407 0007
E: [email protected]
Andy Slaughter MP, Shadow Justice Minister
T: +44 (0)20 7610 1950
E: [email protected]
For further background about this case and related human rights concerns in UAE:
John Tackaberry, Media Officer, Amnesty International Canada
T: (613) 744-7667, extension 236
E: [email protected]
Monia Mazigh, National Coordinator-International Civil Liberties Monitoring Group
T: (613) 241-5298
E: [email protected]
Nicholas McGeehan, UAE researcher at Human Rights Watch
E: [email protected]
Drewery Dyke, UAE Researcher at Amnesty International
T: +44 (0) 75 3558 7297
E: [email protected]
-30-
For more details about the case please visit:
Campaign Website http://www.freesalimalaradi.com/
Facebook Page https://www.facebook.com/freesalimalaradi
Twitter Account https://twitter.com/freesalimaradi
Youtube Channel https://www.youtube.com/c/freesalimalaradi