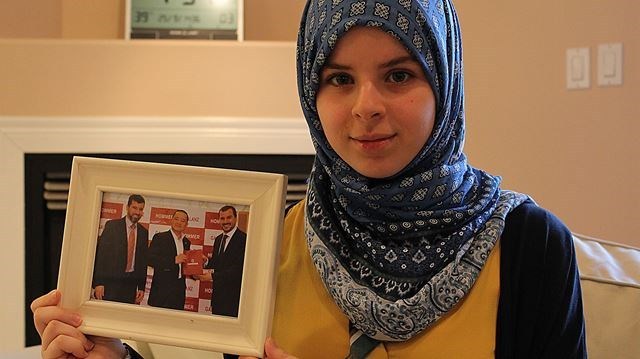 As the period of Ramadan comes to an end, Muslim families come together to celebrate the end of the fast, but one Windsor family's celebration is hampered by the absence of their father and husband.
Seventeen-year-old Marwa Alaradi said she has not seen her father Salim, a Libyan-born Canadian citizen, since Aug. 28 when she went to sleep. After midnight Aug. 29, he left their family's hotel room while on vacation in Dubai after security services in the United Arab Emirates asked to speak with him. He did not return.
Initially UAE officials denied having her father in custody. Alaradi and her mother Aliya contacted the Canadian Embassy in the UAE as well as Amnesty International and Human Rights Watch for assistance in finding Salim.
"It was hard since the beginning," said Alaradi. "We never knew what was happening to my father."
The family remained in Dubai to help assist the two organizations with the investigation. They had moved to the region so Salim, 46, and his brother Mohamad could work on their home appliances business.
Eventually, due to concerns for their family's safety and because they were unable to get as involved in the case in the UAE, not being Emirate citizens, the family moved to Windsor approximately three months ago. A month later, Alaradi started a petition asking for her father's release.
Story continues below
Advertisement
"We decided to come back alone and work on my father's case and try to get my father back home and hopefully come to our home and stay here," said Alaradi, who attends Académie Ste. Cécile here in Windsor.
Through the work of both Amnesty International and HRW, Alaradi was able to confirm her father had been detained through what is called 'enforced disappearance and arbitrary under international law.'
Enforced disappearance is, according to Amnesty International, when a person is taken from the street or their home by state officials who then deny taking the person or 'refuse to say where they are'. It is considered a crime under international law.
The UAE eventually did confirm Salim was one of at least 10 men arrested between Aug. 13 and Sept. 3, which also included Salim's brother Mohamad. Mohamad and three others were released four months later, while Salim was still detained.
In order to protect her two youngest siblings, now four and seven, Alaradi and Aliya told them their father had gone on a business trip. She said she believed the truth would shock them. She said her eldest brother, 13, did eventually find out and understands where his father is and his situation.
Drewery Dyke, a Middle East researcher with Amnesty International, said these aren't the first detainments to occur and said countries are not making their nationals aware they need to be careful of what they say, post online or who they associate with as it could put them in danger in foreign countries.
"There is a now, not emerging, but a set pattern of violations and flaws in the administration of justice in that country," said Dyke.
Authorities have yet to press any charges against Salim, making it more difficult for the family to help in his release as lawyers have been unable to take the case due to no legal action being taken against him.
The Department of Foreign Affairs has also confirmed they are aware of a 'Canadian citizen detained in the United Arab Emirates' and are providing consular services to the citizen. François Lasalle, media spokesperson for the department, said they could not provide any additional details due to privacy concerns for the citizen.
However, Dyke said with Salim's detainment almost reaching a year, this stance is not enough.
"I think we need to hear from the Canadian (government) . . . a little bit more detail," said Dyke. "Did the Embassy say 'Can we meet with him and meet with him in private?' Did they ask that or did they not ask that? . . . I think these sort of things need to be looked at."
"This has all the hallmarks of injustice all over it and that's something that we have to fight against."
Alaradi said the Canadian Embassy in the UAE has worked with the family from the beginning, but in the 11 months of his detainment, representatives have only been able to visit him three times and each visit has been supervised.
In a media release by Amnesty International, it was stated they believed Salim was 'tortured and otherwise ill-treated.' Dyke said this also is due to accounts from the four released, including Mohamad. During their meetings with him, authorities from the Canadian Embassy also noted burns on Salim's hands and significant weight loss.
Aliya also was able to visit Salim once, again supervised. When she noticed the burns, she said he had told her they were from laundry.
There is also cause for concern because Salim has several pre-existing medical conditions including asthma, cholesterol, back issues and has had open-heart surgery, all of which could be made worse if he is kept in his current living conditions.
After months of hearing what was happening to her father, Alaradi decided she needed to do more and set up a website, the petition and several social media pages to raise awareness about her father's situation.
"Although I'm only 17, I'm trying to do my best and fight for my father," said Alaradi.
Alaradi, her cousin and her sister Nur, 15, also travelled to Ottawa last month to speak with several elected officials, including Windsor West MP Brian Masse.
"They were very professional in the way they approached this and they understand that we only have a limited oversight, or influence in this matter because it's a separate foreign country and it has its own system," said Masse. "She's been an inspiration for sure because it can be very frustrating to go through these situations."
In response to the family's visit, Masse wrote a letter to His Highness Sheikh Khalifa bin Zayed Al Nahyan, the president of the UAE, asking him to consider the pardon Aliya has requested.
"We have written to try to back the family up that this should be something they could deal with in making sure they understand that it is affecting the family quite significantly," said Masse.
If she could speak with him, Alaradi said she would tell him his family is working hard to bring him home.
"Stay strong and be confident in yourself."