Free Salim Alaradi Campaign
Urgent Update – February 15th 2016
UAE Judge Adjourns Trial to February 29 for Torture Forensic Assessment
Canadian Citizen Detained in United Arab Emirates for 537 Days
Today was the first day of the internationally condemned trial of Canadian citizen Salim Alaradi and two American citizens, Kamal and Mohamed El Darat. The Honourable Canadian Ambassador Arif Lalani attended in addition to United States officials.
At the onset of the trial that did not last more than 10 minutes, Alaradi's lawyers requested a torture forensic medical assessment by an independent physician. The prosecution objected but the judge overruled and agreed to the request.
"The fact that the State Security judge ordered a medical examination over the objections of the prosecutor is obviously a good sign. This could be a sign that the international attention and scrutiny is finally having an impact," explains Paul Champ, Alaradi's Canadian lawyer.
The legal team also requested that the judge subpoena the interrogators for questioning.  The judge also accepted this request.
Alaradi was extremely emotional after seeing the Canadian Ambassador and his nephew in the court room. It was the first time he has seen a family member in over 11 months. Alaradi was escorted into a glass cage with the other defendants. Alaradi requested to speak and asked the judge that he be given more than 15 minutes a week for phone call privilege so that he can speak to both his family and his lawyer. Unlike most detainees who are allowed an hour or more for calling family, Alaradi has been limited to 15 minutes.
Today, the United Nations issued a statement 'condemning' the trial on the basis of arbitrary detention, violation of rights to health, credible evidence of torture, extremely limited access to their lawyers, and a prosecution merely based on the confessions they were forced to make under torture. "The joint statement issued by the UN Special Rapporteur on Torture and other relevant Special Rapporteurs is an exceptional action by the UN human rights system. This could be a legal turning point," says Champ.
"In addition to Salim Alaradi there are Kamal Eldarat and his son, Mohamed, American citizens of Libyan origin, who made the mistake of doing business in Dubai.  They are innocent of any wrongdoing.   We are confident that a fair-minded court will almost certainly acquit them.  Both the law and the facts are on their side," says Greg Craig, US attorney representing the American nationals and a former White House Counsel under President Barack Obama.
The overwhelming definite conclusion of the UN Expert and opinions offered by legal experts including Geoffrey Robertson QC, a former UN judge, has drawn the attention of international media.
"This family day I spend time with my dad, not at home, not in prison, not online, but advocating for his freedom. The UN has clearly demonstrated that each of my father's basic human rights has been violated and he has no chance for a fair trial. I have been saying this all along and I call on the Canadian government to intervene for his freedom. The day my father is free will be my family day," says Marwa Alaradi, Alaradi's eldest Canadian daughter.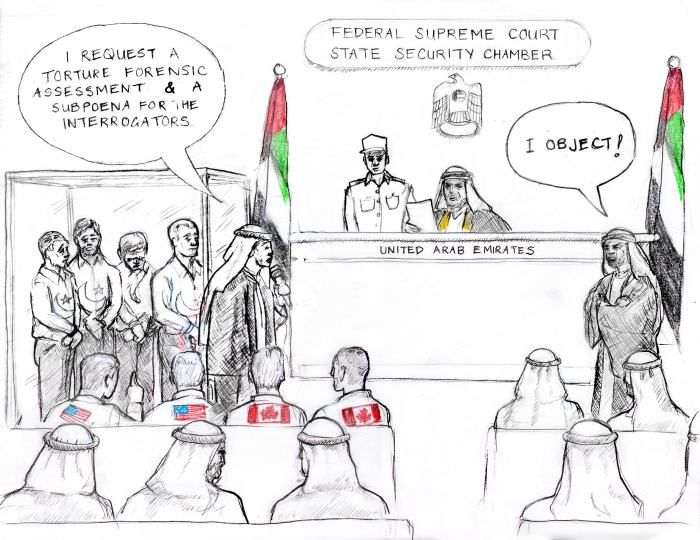 Commissioned by The Libyan Association for Victims of Torture and Enforced Disappearance in the UAE
May be re-used for free, without the need to ask for permission (http://lavtedu.com)
Recent Media Coverage
 BBC - UN experts urge UAE to release Libyan detainees
Guardian - Businessmen held in UAE were tortured into confessions, says UN report
ABC News - UN Calls on UAE to Release 5 Libyans Allegedly Tortured
New York Times - UN Calls on UAE to Release 5 Libyans Allegedly Tortured
FOX News - UAE accused of torturing 5 detainees, including 2 Americans
Daily Mail - UN calls on UAE to release 5 Libyans allegedly tortured
Globe and Mail - Canadian businessman Salim Alaradi on trial in Abu Dhabi in terror case
La Presse - L'ONU demande aux Émirats arabes unis de libérer un détenu canadien
Reuters - UN experts condemn trial of foreign nationals in the UAE, call for release
CBC - United Nations calls for Canadian Salim Alaradi's release from U.A.E.
Huffington Post - Salim Alaradi Case: UN Calls On United Arab Emirates To Release Detained Canadian
CTV - UN calls on U.A.E. to release detained Canadian
Toronto Sun - UN calls for release of Canadian detained in UAE for year and a half
ICI Radio Canada - Le procès de Salim Alaradi aux Émirats arabes unis ajourné au 29 février
Middle East Eye - The UAE must free my brother, Salim Alaradi
Media Contacts
For further details about Salim Alaradi's situation and the progress of the case in UAE:
Paul Champ, Human rights lawyer representing Salim Alaradi
T: (613) 237-2441
E: [email protected]
Greg Craig, Lawyer for US Nationals Kamal and Mohamed El Darat and former White House Counsel
T: +1.202.371.7400
E: [email protected]
Marwa Alaradi, Salim Alaradi's eldest daughter
E: [email protected]
For comments about the UN News Release:
Ms. Amanda Flores, UN Human Rights Officer
T: + 41 22 917 9186
E: [email protected])
Ms. Sonia Cronin, UN Human Rights Officer
T: +41 22 917 9160
E: [email protected]
For comments about the case and the UN Opinion:
Geoffrey Robertson QC
T: + 44 (0) 7940 951731
E: [email protected]
Sue Willman, Deighton Pierce Glynn
T: +44 (0) 20 7407 0007
E: [email protected]
Andy Slaughter MP, Shadow Justice Minister
T: +44 (0)20 7610 1950
E: [email protected]
For further background about this case and related human rights concerns in UAE:
John Tackaberry, Media Officer, Amnesty International Canada
T: (613) 744-7667, extension 236
E: [email protected]
Monia Mazigh, National Coordinator-International Civil Liberties Monitoring Group
T: (613) 241-5298
E: [email protected]
Nicholas McGeehan, UAE researcher at Human Rights Watch
E: [email protected]
Drewery Dyke, UAE Researcher at Amnesty International
T: +44 (0) 75 3558 7297
E: [email protected]
-30-
For more details about the case please visit:
Campaign Website http://www.freesalimalaradi.com/
Facebook Page https://www.facebook.com/freesalimalaradi
Twitter Account https://twitter.com/freesalimaradi
Youtube Channel https://www.youtube.com/c/freesalimalaradi