Free Salim Alaradi Campaign
Urgent Update – February 26th 2016
Legal Team for Canadian Citizen Alaradi Categorically Seeks Trial Dismissed Once Torture Forensic Assessment Returns
Canadian Citizen Detained in United Arab Emirates for 548 Days
The United Nations, international legal experts and human rights organizations have mutually condemned the trial of Canadian citizen Salim Alaradi and two Americans and called for it to be dismissed immediately and Alaradi reunited with his family. Such calls have been based on gross human rights violations tainting the trial and absolutely no possibility of Alaradi receiving a fair trial.
Alaradi's legal team was pleased that the judge accepted the request for the forensic medical assessment because it will serve as the most basic litmus test for a fair trial. The lawyers have no doubt that if the assessment is independently conducted it will confirm shocking torture methods subjected to Alaradi during his detention, specifically in the period of August to November 2014.
"We have received credible information according to which the detainees were tortured and forced to sign confessions" said the UN Special Rapporteur on torture, Juan E. Méndez. "The suspects have been also allegedly held incommunicado in secret detention locations and in solitary confinement for prolonged periods of time. This is very troubling as it reinforces the risks of being tortured or ill-treated."
"We have also received reports according to which the sole basis for their conviction is the confessions they were forced to make under torture," added the United Nations human rights experts. "International law, including the Convention against Torture ratified by the UAE, clearly prohibits the use of any evidence obtained under torture during a trial".
"There is no doubt, in my view, that the assaults of which Mr Alaradi complains amount to torture. Regular beatings, inflicting a level of pain and bruising intended to induce a confession, are torture, and courts have held that bastinado reaches this severity level. Of course, beatings whilst suspended upside down or whilst held in a stress position would obviously qualify," says Geoffrey Robertson.
A number of the survivors released by the UAE State Security who were detained at the same time of Alaradi, including his brother Mohamed Elaradi, had torture medical assessments completed. Mohamed Elaradi was seen by Professor Katona, Medical Director at the Helen Bamber Foundation and holds a degree of Doctor of Medicine from the University of Cambridge. "In my clinical opinion, Mr Elaradi's Post-Traumatic Stress Disorder was caused by his arrest, detention and ill-treatment whilst in detention in 2014," concludes Professor Katona.
"There is credible evidence that Salim Alaradi was severely tortured that has been confirmed by Canadian authorities, the United Nations, human rights groups and international human rights lawyers that is further reinforced by Mr. Elaradi's medical assessment. There should be only one outcome when the forensic physician takes the stand," says Paul Champ, Alaradi's Canadian lawyer.
"So far as this case is concerned, the duty of the court is to investigate these credible allegations, made by all four defendants, and to reject any confessions that have been induced by the ill-treatment – a remedy specifically required by Article 15 of the Convention against Torture," concluded Robertson in his in-depth legal review of the case.
The legal team is evaluating the medical torture assessment on a very simple argument. In addition to evidence, prior to August 2014 Alaradi and the American defendants were in good health, their hearing and sight had no issues; but today some have permanently lost hearing and losing their sight in addition to several other serious medical conditions. The forensic physician will need to explain what caused this. If the assessment confirms ill-treatment and if due process is followed, the prosecution's case should be dismissed.
"From my point of view we have reached a point in the trial that is black and white. We are very hopeful that my father will be coming home after February 29, but I am also trying to remain realistic and ready for the worst," says Marwa Alaradi.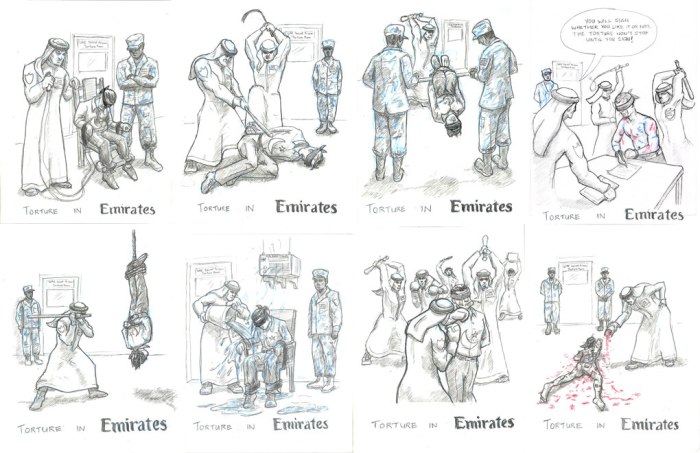 Commissioned by The Libyan Association for Victims of Torture and Enforced Disappearance in the UAE
May be re-used for free, without the need to ask for permission (http://lavtedu.com)
Recent Media Coverage
The Guardian - UAE beat foreign prisoners and gave them electric shocks, evidence shows
The Washington Post – Americans tortured by American ally
The Guardian - Two Americans detained in UAE to go on trial after 505 days without charges
BBC - UN experts urge UAE to release Libyan detainees
Guardian - Businessmen held in UAE were tortured into confessions, says UN report
ABC News - UN Calls on UAE to Release 5 Libyans Allegedly Tortured
New York Times - UN Calls on UAE to Release 5 Libyans Allegedly Tortured
FOX News - UAE accused of torturing 5 detainees, including 2 Americans
Daily Mail - UN calls on UAE to release 5 Libyans allegedly tortured
Globe and Mail - Canadian businessman Salim Alaradi on trial in Abu Dhabi in terror case
La Presse - L'ONU demande aux Émirats arabes unis de libérer un détenu canadien
Reuters - UN experts condemn trial of foreign nationals in the UAE, call for release
CBC - United Nations calls for Canadian Salim Alaradi's release from U.A.E.
Huffington Post - Salim Alaradi Case: UN Calls On United Arab Emirates To Release Detained Canadian
CTV - UN calls on U.A.E. to release detained Canadian
Toronto Sun - UN calls for release of Canadian detained in UAE for year and a half
ICI Radio Canada - Le procès de Salim Alaradi aux Émirats arabes unis ajourné au 29 février
Middle East Eye - The UAE must free my brother, Salim Alaradi
Media Contacts
For further details about Salim Alaradi's situation and the progress of the case in UAE:
Paul Champ, Human rights lawyer representing Salim Alaradi
T: (613) 237-2441
E: [email protected]
Greg Craig, Lawyer for US Nationals Kamal and Mohamed El Darat and former White House Counsel
T: +1.202.371.7400
E: [email protected]
Marwa Alaradi, Salim Alaradi's eldest daughter
E: [email protected]
For comments about the UN News Release:
Ms. Amanda Flores, UN Human Rights Officer
T: + 41 22 917 9186
E: [email protected])
Ms. Sonia Cronin, UN Human Rights Officer
T: +41 22 917 9160
E: [email protected]
For comments about the case and the UN Opinion:
Geoffrey Robertson QC
T: + 44 (0) 7940 951731
E: [email protected]
Sue Willman, Deighton Pierce Glynn
T: +44 (0) 20 7407 0007
E: [email protected]
Andy Slaughter MP, Shadow Justice Minister
T: +44 (0)20 7610 1950
E: [email protected]
For further background about this case and related human rights concerns in UAE:
John Tackaberry, Media Officer, Amnesty International Canada
T: (613) 744-7667, extension 236
E: [email protected]
Monia Mazigh, National Coordinator-International Civil Liberties Monitoring Group
T: (613) 241-5298
E: [email protected]
Nicholas McGeehan, UAE researcher at Human Rights Watch
E: [email protected]
Drewery Dyke, UAE Researcher at Amnesty International
T: +44 (0) 75 3558 7297
E: [email protected]
-30-
For more details about the case please visit:
Campaign Website http://www.freesalimalaradi.com/
Facebook Page https://www.facebook.com/freesalimalaradi
Twitter Account https://twitter.com/freesalimaradi
Youtube Channel https://www.youtube.com/c/freesalimalaradi