Free Salim Alaradi Campaign
Urgent Update – February 8th 2016
Amnesty International and Human Rights Watch dismayed by unfolding unfair trial of Canadian/Libyan and United States/Libyan nationals as 'confessions' obtained under torture and secret evidence look set to be used
Canadian Citizen Detained in United Arab Emirates for 530 Days
It did not take long after Canadian/Libyan Salim Alaradi disappeared on August 28, 2014 by United Arab Emirates (UAE) State Security Agents that Human Rights Watch (HRW) and Amnesty International (AI) examined the facts of the case and took action. Human rights groups quickly linked the detention regional politics and division in Libya. Since then AI and HRW have repeatedly drawn attention to the gross human rights violations and most recently flaws in the administration of the case against Alaradi and the American detainees.
Following the January 18th 2016 hearing Amnesty International renewed its campaigning with an Urgent Action appeal, calling on the UAE authorities to try Alaradi before an ordinary criminal court in accordance with international fair trial standards, including the right to appeal, and without recourse to the death penalty. The Urgent Action also calls on the UAE to ensure that any "confessions" or other statements obtained by torture and other ill-treatment or coercion are not used as evidence in court. Amnesty Canada has also issued an Urgent Action to its followers.
HRW issued a report on February 4th confirming that multiple serious due process violations in Alardi's pre-trial detention make it highly unlikely that he will receive a fair trial in the UAE.
Both AI and HRW, in line with international human rights standards, have called what happened to Alaradi an enforced disappearance.  "The UAE should take immediate steps to reverse its dismal handing of this case, including an immediate investigation into the torture claims," said Joe Stork, deputy Middle East director at Human Rights Watch. AI's UAE Researcher Drewery Dyke added that "this case bears all the hallmarks of tens of unfair trials that have preceded it, in which detainees have reported torture, and in which the UAE government has denied defendants an effective legal defence, imprisoned prisoners of conscience and which has ultimately left in tatters its reputation in terms of human rights."
AI and HRW are only two of many human rights organizations in Canada, the United States of America, the United Kingdom, Switzerland, and Libya that have researched the case and concluded that Salim Alaradi, Kamal and Mohamed Eldarat have been arbitrarily detained, that there are serious and credible allegations of torture, that they have been denied access to private consular and legal representation and are now facing multiple due process violations in a process that has no right of appeal.
Alaradi's lawyers have seen the charge sheet against him and the other defendants. It consists of 'confessions' extracted under torture and relies on secret evidence provided by secret individuals. It was made available to the defence over a week after the trial began. The men have been denied the effective right of defence yet the case is only getting underway. We call on the UAE authorities to end this painful charade and to release Alaradi and the American nationals.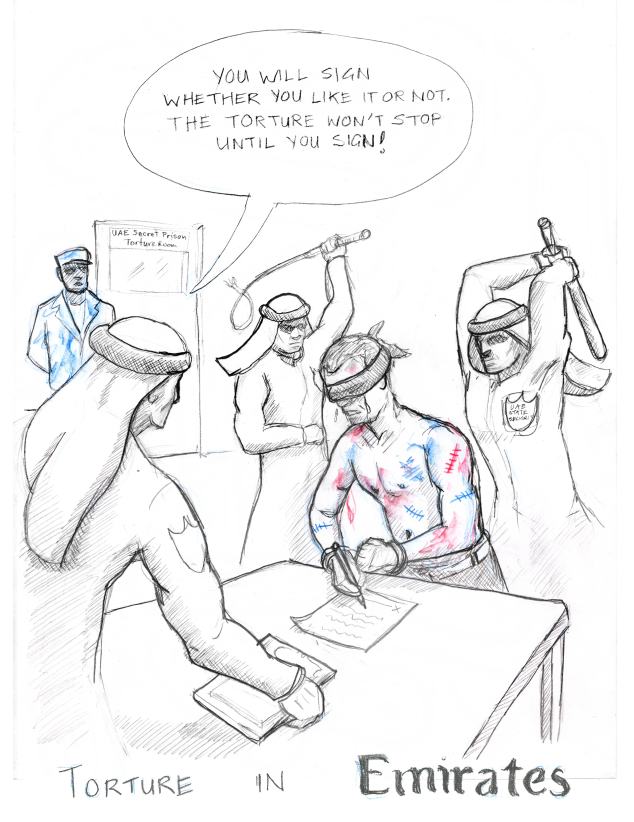 Based on witness statements of UAE Secret Prison survivors
Commissioned by The Libyan Association for Victims of Torture and Enforced Disappearance in the UAE
May be re-used for free, without the need to ask for permission (http://lavtedu.com)
 Media
For further details about Salim Alaradi's situation and the progress of the case in UAE:
Marwa Alaradi, Salim Alaradi's eldest daughter
E: [email protected]
Paul Champ, Human rights lawyer representing Salim Alaradi
T: (613) 237-2441
E: [email protected]
For further background about this case and related human rights concerns in UAE:
John Tackaberry, Media Officer, Amnesty International Canada
T: (613) 744-7667, extension 236
E: [email protected]
Monia Mazigh, National Coordinator-International Civil Liberties Monitoring Group
T: (613) 241-5298
E: [email protected]
Nicholas McGeehan, UAE researcher at Human Rights Watch
E: [email protected]
Drewery Dyke, UAE Researcher at Amnesty International
T: +447535587297
E: [email protected]
-30-
For more details about the case please visit:
Campaign Website http://www.freesalimalaradi.com/
Facebook Page https://www.facebook.com/freesalimalaradi
Twitter Account https://twitter.com/freesalimaradi
Youtube Channel https://www.youtube.com/c/freesalimalaradi